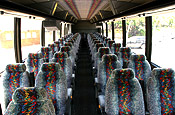 Polynesian Hospitality's expertly maintained fleet includes vans, minibuses and luxury motor coaches. With seating capacities ranging from 11 to 62, we have vehicles to fit your every need.
Our luxury motor coaches by Prevost Car are well appointed touring vehicles engineered with class and comfort in mind. There's no shortage of utility either, as these vehicles feature spacious storage compartments and a kneeling suspension system which makes for easy passenger entry and exit.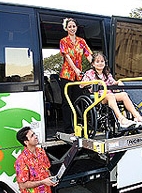 A select number of coaches feature wheelchair lifts and are able to accommodate up to four passengers in wheelchairs.